First New Zealand installation of Sysmex's innovative UN-Series at Labtests
Labtests, a division of Healthscope NZ, is one of the largest private pathology providers in New Zealand and have become the first laboratory in the country to install and begin processing specimens with Sysmex's innovative UN-Series. Urinalysis testing is commonly requested by GPs to screen for urinary tract infections, kidney disorders, and liver problems. Labtests routinely receive 1,300 specimens each day from the Auckland and Northland regions to test for urinary tract infections alone.
The seven-week installation of the fully automated urinalysis workflow solution included a refit of the Microbiology laboratory workspace, test validation, instrument interfacing, and staff training; with live processing of specimens commencing in late May. The Labtests contract to upgrade their existing UF-1000i units to the full scale modular UN-Series followed a comprehensive evaluation period and reconfirms their committed partnership with Sysmex.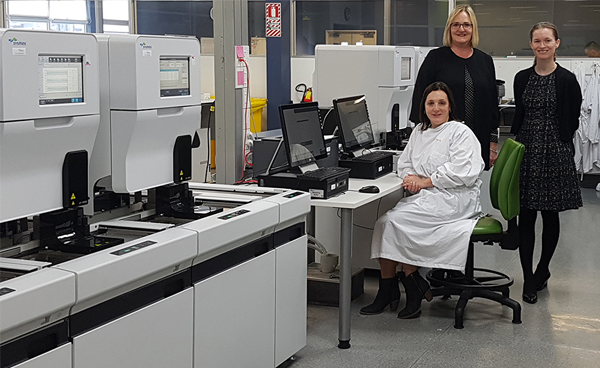 L to R: Matilda Germanov, Chris Davey, Susan Smith (Labtests)
Labtests takes a proactive approach to new and emerging technologies, looking for innovative ways to improve patient care and service delivery as evidenced by their purpose built, high-tech laboratory which was designed for optimised efficiency.
"One of our key values is to constantly look for ways to improve our care and service, so we're early adopters of new technology," said Chris Davey, Labtests General Manager, "but that strategy can involve taking a leap of faith. You need to have confidence and trust in the relationship you have with your suppliers. From our interactions over the last few months with Sysmex, that faith has been well placed."
"Every member of the Microbiology department has been heavily invested in the project all the way through and to see their excitement as the first specimen was processed was fantastic. They are a quality driven team and now they all get to share in the project's success," she said.
This sentiment was echoed by Susan Smith, Head of Microbiology, at Labtests, "The Sysmex team have been incredibly supportive throughout this entire project. Each time we started to get the least bit nervous or were unsure, their confidence in the instruments and their ability to answer all our questions meant that we too became positive about the transition."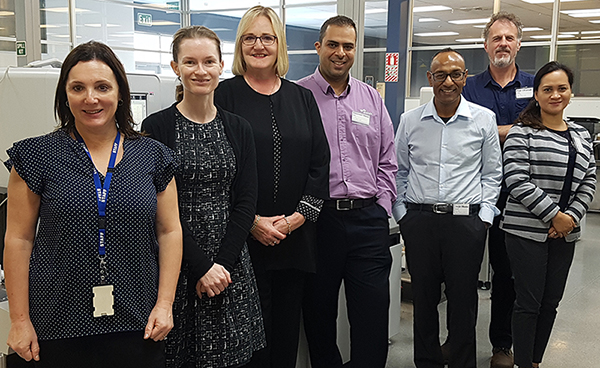 L to R: Matilda Germanov, Susan Smith, Chris Davey (Labtests); Mohammed Othman, Arjit Bhana, Paul O'Ferrall, Claire Cendaña (Sysmex New Zealand)
Sysmex's globally renowned fluorescence flow cytometry represents the latest in urinalysis technology and provides more detailed analysis of specimens that have been determined to be abnormal; a critical test in the diagnosis of renal disease and urinary tract disorders. The modularity of the UN-Series has provided Labtests with an automated, seamless urinalysis workplace solution from sample loading to the final digital image.
"We anticipate the UN-Series will streamline and standardise our urine processing by reducing laborious and subjective manual microscopy, as well as reducing time lost on filter blockages," says Microbiology Section Leader, Matilda Germanov. "We're also expecting the new conveyor belt feature to provide us with a simplified workflow; and further workflow advantages in the near future from body fluid analysis and additional particle classification."
For the last five decades, Sysmex has been synonymous with quality, innovation and reliability. This has been demonstrated by the 10-year length of dependable and accurate service previously provided by the UF-1000i units.
"The first New Zealand installation of our UN- Series is a great way to celebrate Sysmex Corporation's 50th anniversary year," said Sysmex NZ CEO, Arjit Bhana. "Sysmex is very proud to have partnered with Labtests, providing them with a fully automated urinalysis solution that delivers more accurate results and minimises hands-on operation. The reduction in test results turnaround time means patients can be diagnosed and treated earlier, ultimately providing a healthier tomorrow for the greater Auckland population."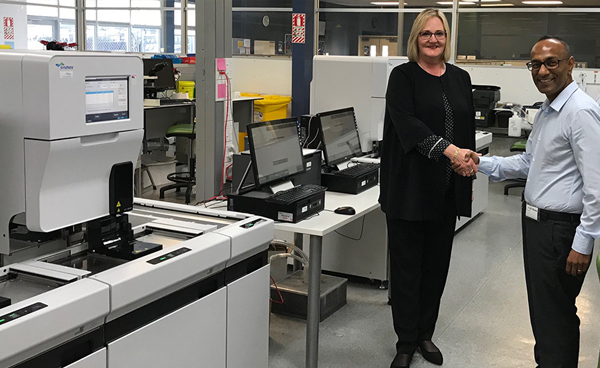 L to R: Chris Davey (Labtests) and Arjit Bhana (Sysmex New Zealand)